DeskCamera
Stream a computer screen to VMS via ONVIF
DeskCamera transforms a computer into a virtual ONVIF IP Camera, enabling users to stream their PC desktop, webcam feed, audio, and other media from the computer to any VMS or NVR system using the RTSP and ONVIF protocols.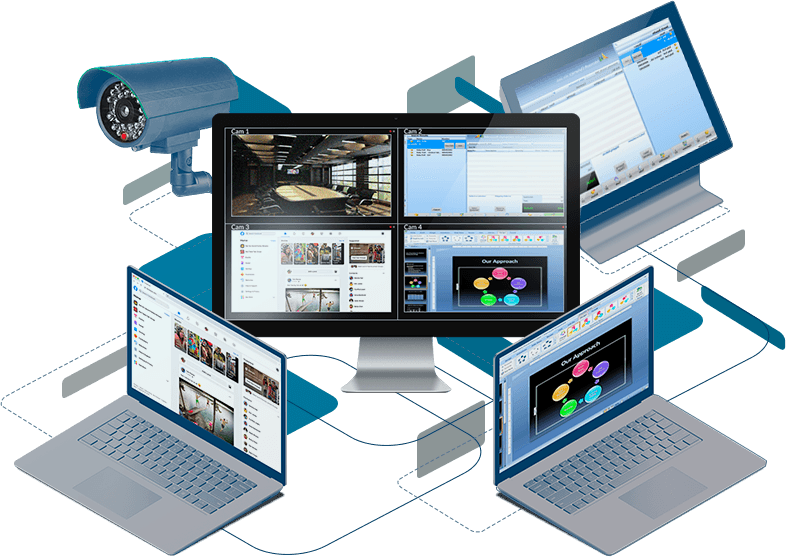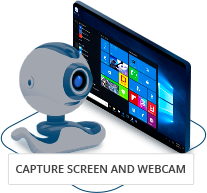 Install DeskCamera on a Windows PC and configure the media you need to capture, such as screens, webcams, microphone, app window, etc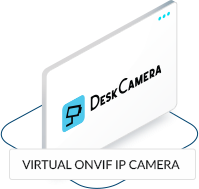 DeskCamera acts as a virtual ONVIF IP camera, enabling the streaming of captured media to any Video Surveillance system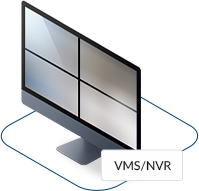 Use the IP address of the PC to add DeskCamera into a VMS/NVR system as if it were an ordinary ONVIF IP camera
PC surveillance with DeskCamera for different industries
Retail & POS Surveillance
In Retail, DeskCamera is a gateway between POS terminals and Video Surveillance infrastructure. The software allows to record POS terminal screen into existing Video Surveillance environment as like POS terminal is just an ordinary security camera.
DeskCamera could be installed to Windows-based POS terminal in only few clicks. After that the POS terminal screen is available for live view and record to any ONVIF compatible VMS or NVR systems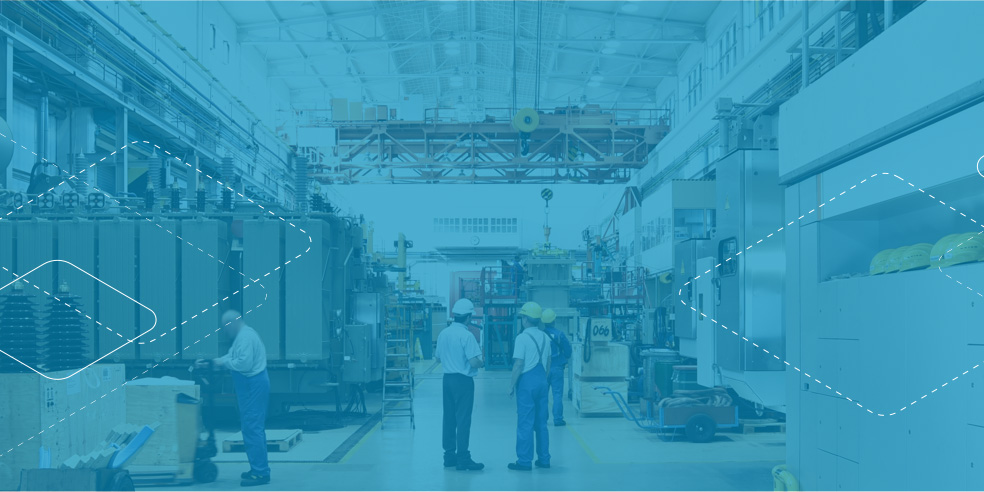 CNI & Manufacturing
DeskCamera captures computer screen, webcam and other medias and streams it all to VMS/NVR systems.
Manufacturing, Production lines, Development and other businesses could use DeskCamera functionality in various ways. For example DeskCamera could be used to record screens running proprietary software for things like water/power utilities as it allows you to very easily navigate the timeline based on graphical information like temperature, water level, etc allowing operators to find video correlating to certain events, or to check what the settings were on a terminal at the specific time of an event caught on video.
DeskCamera is useful to capture screens of production processes that are visualized with SCADA. That allows to record all operator actions in the event and analyse abnormal situations and mitigate human factors.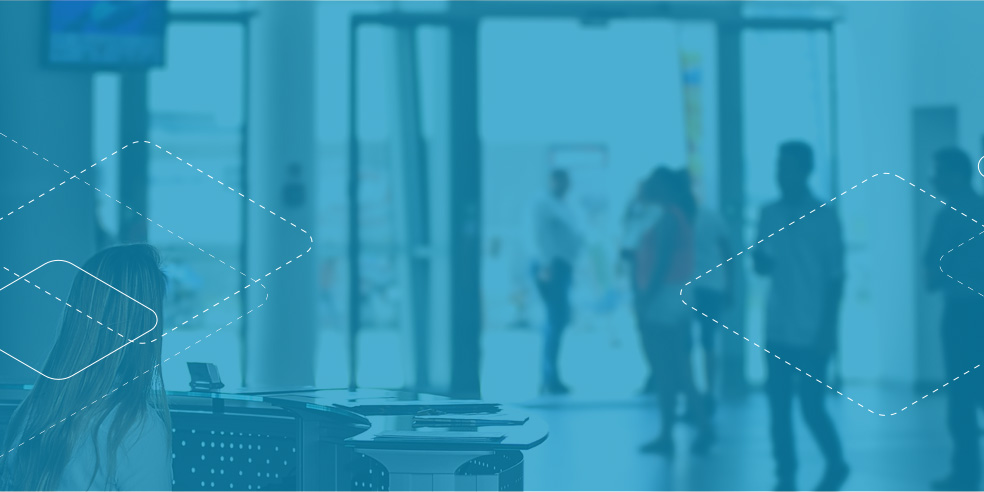 Airports
Airport surveillance systems become more complex these days. Airport security faces many threats and tries to upgrade their software and hardware regularly. The main tasks of physical and cybersecurity systems are protecting infrastructure and building analytical data.
All perimeter surveillance solutions in the airport should be integrated with a central video management system. That is where DeskCamera could help proving a bridge between PC surveillance and VMS. As a result, the security team gets an easy-to-manage centralized hub to monitor and manage airport security.
In addition, DeskCamera could be used to record the screens in an airport Control Room. This ensures the operator monitors all the cameras equally and thoroughly. It also provides additional data of what was displayed at the operator screens when an incident occurred
Moreover, monitors in the airport display flight Arrival/Departure data. DeskCamera can capture and store that information to VMS for a historical purpose.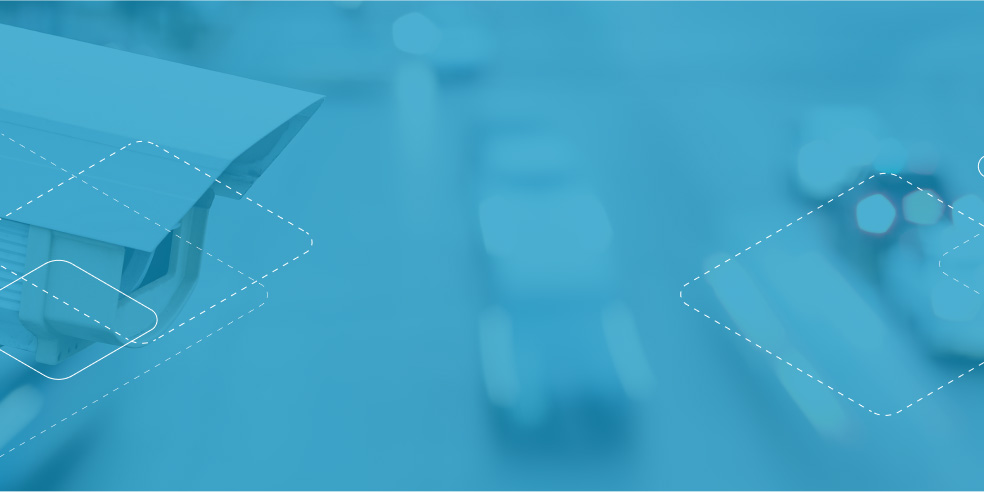 City Surveillance
Most the Video Surveillance platforms log when operator's login and logout of the system but they don't log what cameras the operators look at and for how long. However, that data might be needed for audit and compliance purposes
DeskCamera fills that gap with the ability to record the screens from a control room into VMS. This ensures the operator monitors all the cameras equally and thoroughly. It also provides additional data of what was displayed at the operator screens when an incident occurred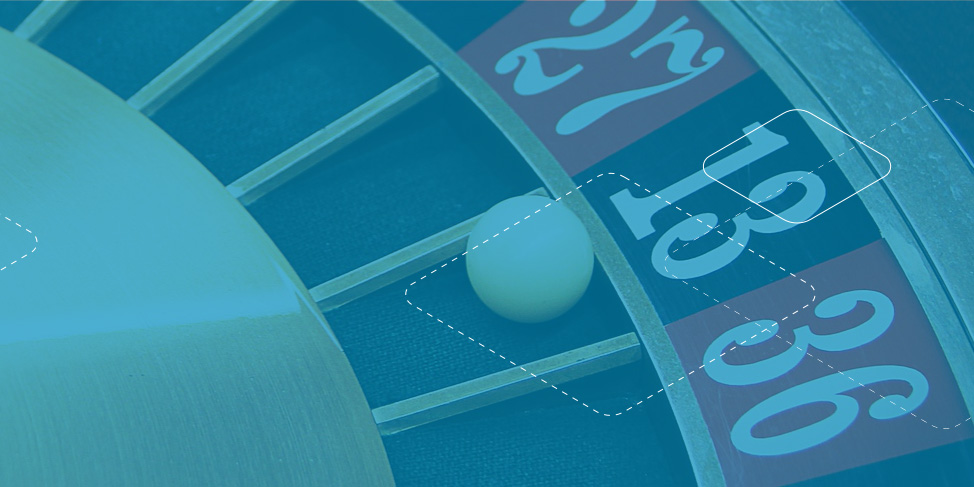 Casinos
One of the enhancements DeskCamera brings to a Casino's Control Room is "Live Editing" – providing the ability to create a single evidence video. While the Operator tracks any suspicious activity, he pulls up video from many cameras to a "working monitor". DeskCamera then streams that working monitor to a VMS where its available as a single video for a further investigation and export.
In addition, DeskCamera could be used to record the screens in a Casino Control Room.  This ensures the operator monitors all the cameras equally and thoroughly. It also provides additional data of what was displayed at the operator screens when an incident occurred
DeskCamera is a unique solution for POS surveillance in the Bar and Restaurant areas of a Casino. With DeskCamera, a POS screen is transmitted to VMS as an extra channel, which facilitates POS screen playback synchronised with area cameras. It brings all the Casino's data together so an operator can search for evidence across multiple POS systems and physical cameras simultaneously.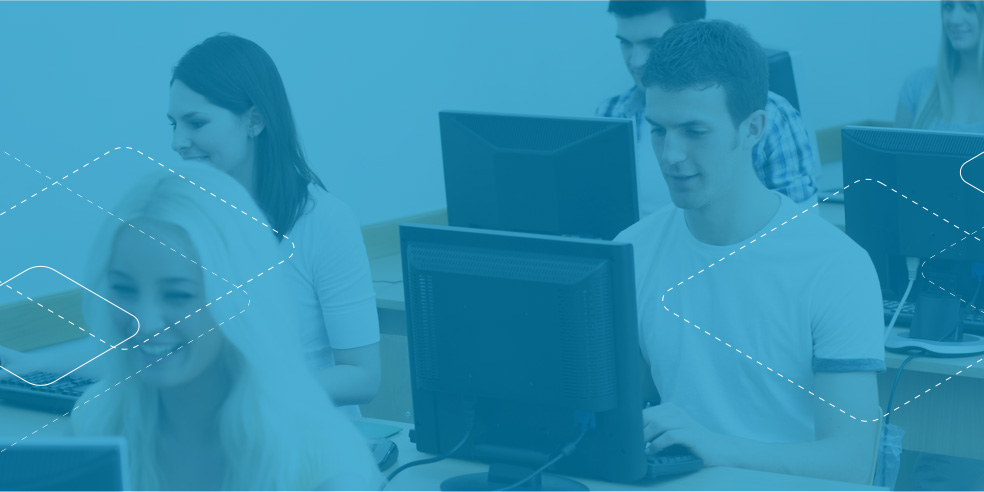 Education & Healthcare
Education field uses DesksCamera to monitor library computer activity and student computer activity during lectures or exams side-by-side with other camera's video footage through VMS/NVR.
In the healthcare field, DeskCamera helps to monitor the productivity of staff by understanding how they work with time-management applications for ward sorting, bookings, reservations, visitors, and any types of databases.
Additionally, DeskCamera is very usefully to record medical equipment screens into a video surveillance system
DeskCamera is a proven solution that increases the accuracy and productivity of workers in healthcare sphere and many other fields.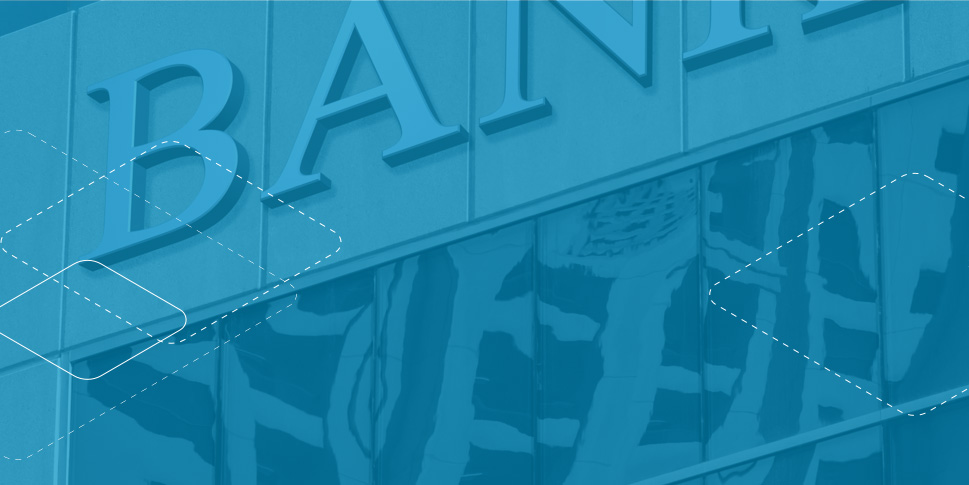 Banking
A bank is a territory of wide financial flows and providing security and transparency is very important for such organization.
DeskCamera brings surveillance to bank computers – the most critical area where all the financial operations are moving thought. DeskCamera streams a computer screen and webcam into a VMS/NVR system as like it an ordinary IP camera. That allows to monitor and record a computer operator activity through an existing bank's video surveillance infrastructure side-by-side with other physical camera's video footage.
A bank will also benefit of using DeskCamera in ATMs. The software can stream ATM screen and ATM camera in real-time directly to a security department. It makes using ATMs much safer for customers and provides all the evidence in case of an incident.
DeskCamera is a software-only solution, the installation process takes only seconds and could be done remotely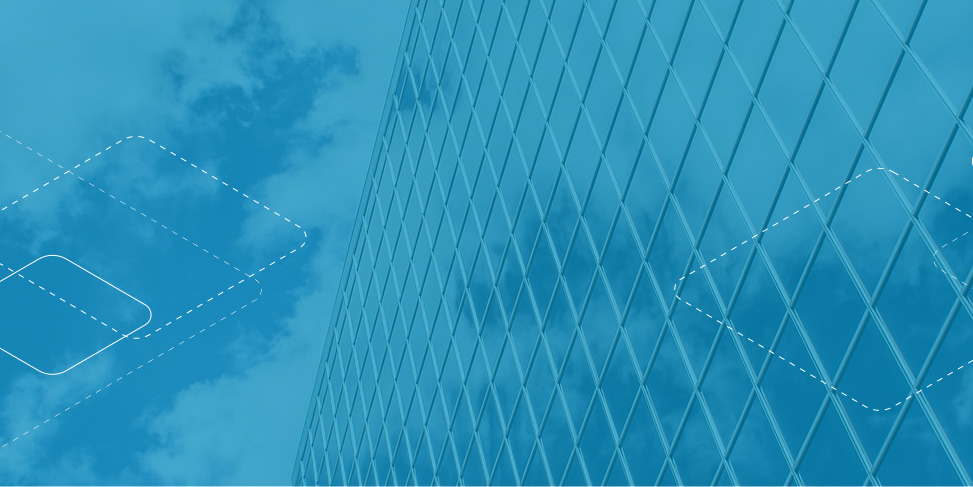 Other Industries
DeskCamera is a new software concept for recording the operators screen in a way that replaces the need for expensive hardware encoders, video servers and signal splitters, saving on installation, power, cable and another point of failure
DeskCamera allows you to stream a PC desktop, webcam and microphone via the RTSP and ONVIF protocol to any VMS/NVR system.
The software solves real client issues in many ways, from helping to prevent video evidence leaks by identifying how recorded video has been removed for example by mobile phone.
Ensuring Audit, Training & Compliance procedures have been followed with visual evidence negating the need to provide lengthy reports to the ombudsman for scrutiny and improve processes.
Helping to prevent POS fraud by giving loss prevention teams an extra layer of visibility by allowing side by side the screen recordings to be synchronized with the activity that occurred at the register.  
DeskCamera is quick and easy to install & set in very short time
High performance GPU encoding
Hardware acceleration on most of the environments.
DeskCamera supports Intel QSV, NVIDIA NVENC and AMD VCE
People from different industries use DeskCamera to record a computer media to VMS